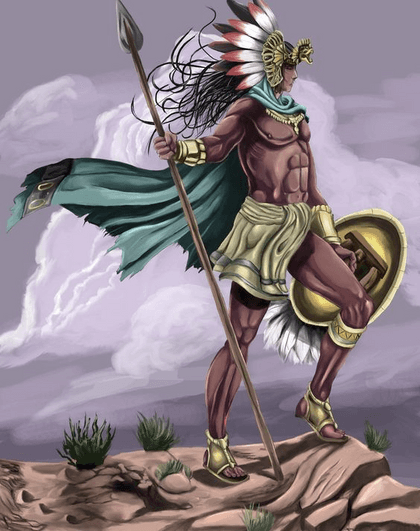 𝕿𝖍𝖊 𝖑𝖊𝖌𝖊𝖓𝖉 𝖔𝖋 𝖙𝖍𝖊 𝖌𝖗𝖊𝖆𝖙 𝖋𝖎𝖗𝖊 𝖇𝖊𝖆𝖘𝖙 (𝓘𝓷𝓰𝓵𝓮𝓼 𝓥𝓮𝓻𝓼𝓲ó𝓷)
Summary
𝑻𝒉𝒊𝒔 𝒊𝒔 𝒕𝒉𝒆 𝒔𝒕𝒐𝒓𝒚 𝒐𝒇 𝑺𝒉𝒖𝒈𝒐𝒔𝒉𝒊𝒏, 𝒂 𝒚𝒐𝒖𝒏𝒈 𝑨𝒛𝒕𝒆𝒄 𝒘𝒉𝒐 𝒍𝒊𝒗𝒆𝒔 𝒊𝒏 𝑨𝒛𝒕𝒍á𝒏, (𝒂 𝒔𝒎𝒂𝒍𝒍 𝒕𝒐𝒘𝒏 𝒍𝒐𝒄𝒂𝒕𝒆𝒅 𝒊𝒏 𝒕𝒉𝒆 𝒄𝒆𝒏𝒕𝒆𝒓 𝒐𝒇 𝒑𝒓𝒆𝒔𝒆𝒏𝒕-𝒅𝒂𝒚 𝑴𝒆𝒙𝒊𝒄𝒐). 𝑺𝒊𝒏𝒄𝒆 𝒉𝒆 𝒘𝒂𝒔 𝒂 𝒄𝒉𝒊𝒍𝒅, 𝑺𝒉𝒖𝒈𝒐𝒔𝒉𝒊𝒏 𝒉𝒂𝒔 𝒘𝒂𝒏𝒕𝒆𝒅 𝒕𝒐 𝒃𝒆𝒄𝒐𝒎𝒆 𝒂𝒏 𝑨𝒛𝒕𝒆𝒄 𝒘𝒂𝒓𝒓𝒊𝒐𝒓, 𝒍𝒊𝒌𝒆 𝒉𝒊𝒔 𝒇𝒂𝒕𝒉𝒆𝒓, 𝒃𝒖𝒕 𝒇𝒐𝒓 𝒕𝒉𝒊𝒔 𝒉𝒆 𝒎𝒖𝒔𝒕 𝒈𝒐 𝒕𝒉𝒓𝒐𝒖𝒈𝒉 𝒂 𝒔𝒆𝒓𝒊𝒆𝒔 𝒐𝒇 𝒄𝒉𝒂𝒍𝒍𝒆𝒏𝒈𝒆𝒔 𝒕𝒐 𝒇𝒊𝒏𝒅 𝒐𝒖𝒕 𝒊𝒇 𝒉𝒆 𝒊𝒔 𝒕𝒉𝒆 𝒎𝒐𝒔𝒕 𝒔𝒖𝒊𝒕𝒂𝒃𝒍𝒆.
𝑩𝒖𝒕, 𝒔𝒐𝒐𝒏 𝒉𝒊𝒔 𝒋𝒐𝒖𝒓𝒏𝒆𝒚 𝒊𝒔 𝒂𝒇𝒇𝒆𝒄𝒕𝒆𝒅 𝒘𝒉𝒆𝒏 𝒂 𝒈𝒊𝒂𝒏𝒕 𝒃𝒆𝒂𝒔𝒕 𝒎𝒂𝒌𝒆𝒔 𝒊𝒕𝒔 𝒂𝒑𝒑𝒆𝒂𝒓𝒂𝒏𝒄𝒆.
Chapters
swap_vert
Latest to Oldest
Read the rest of the series here!